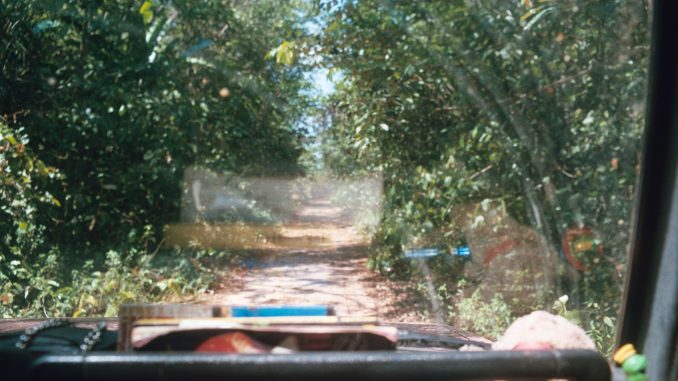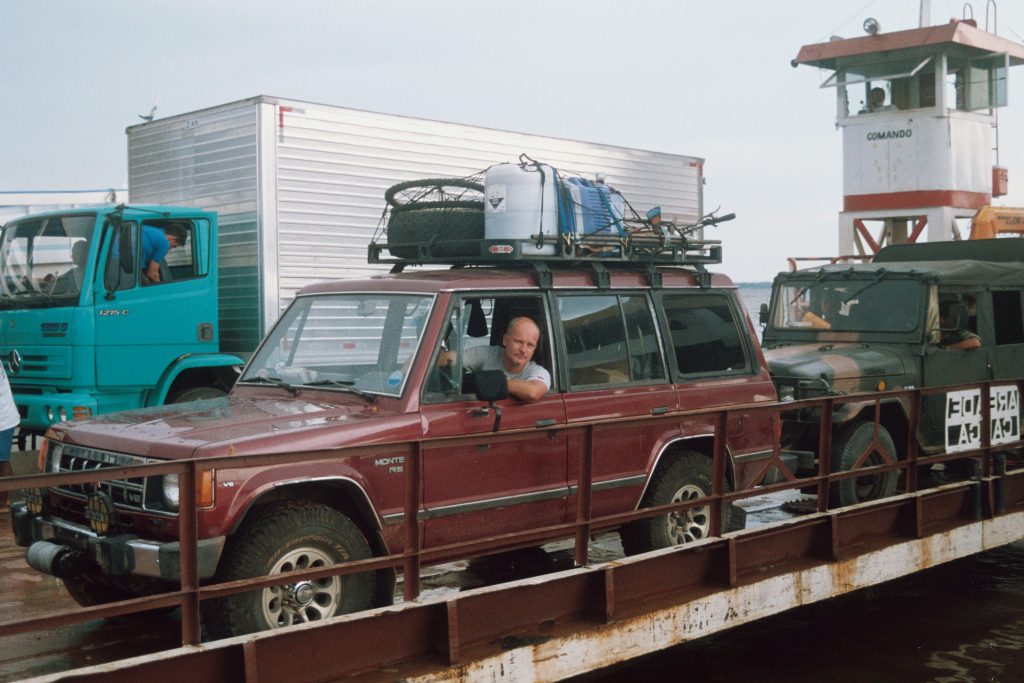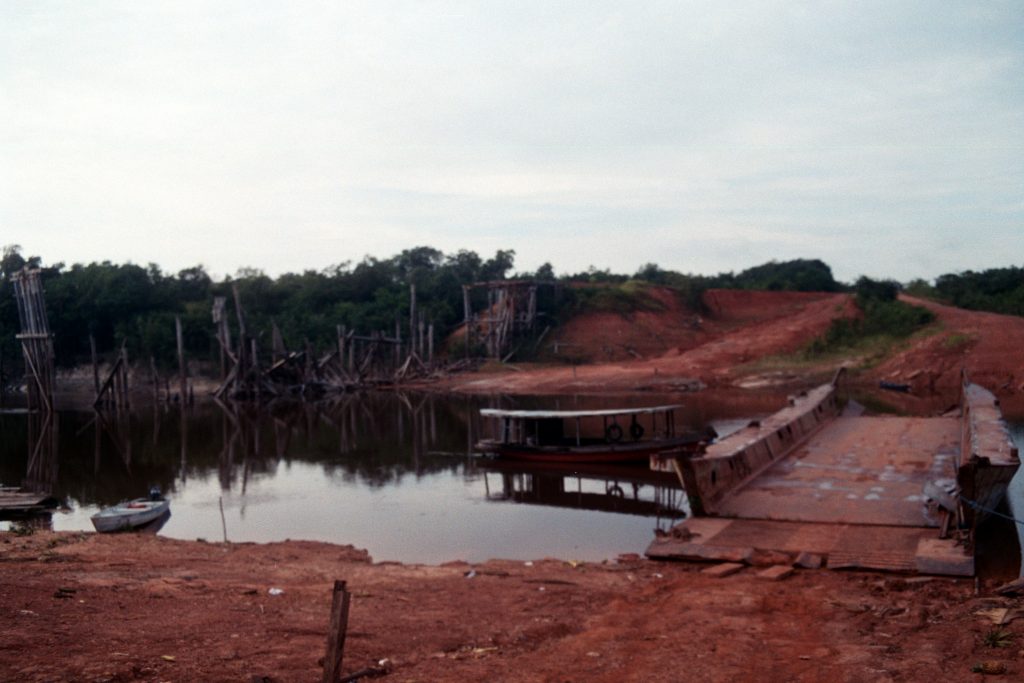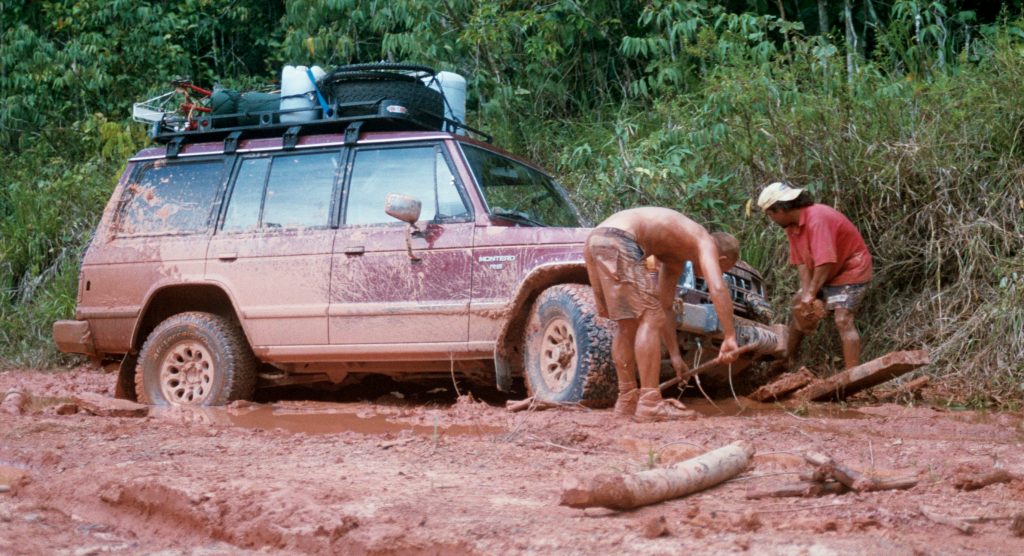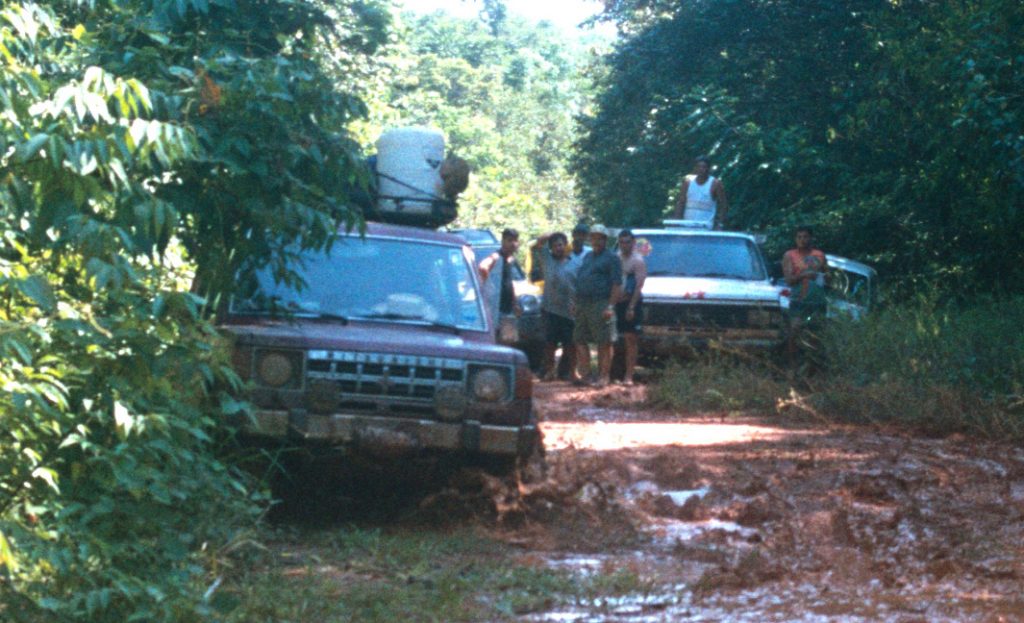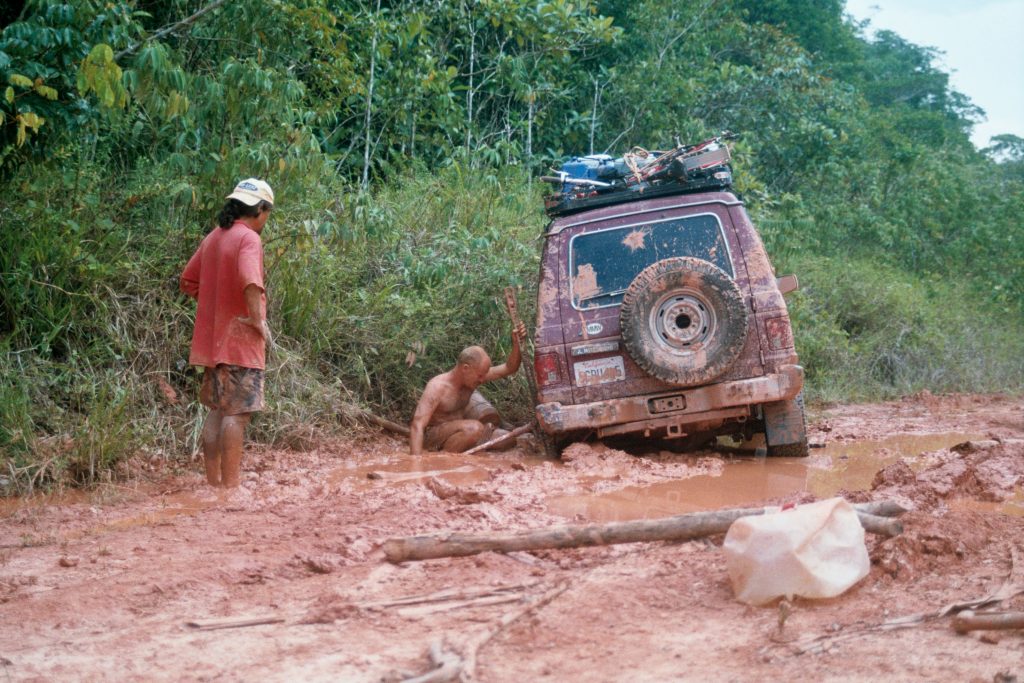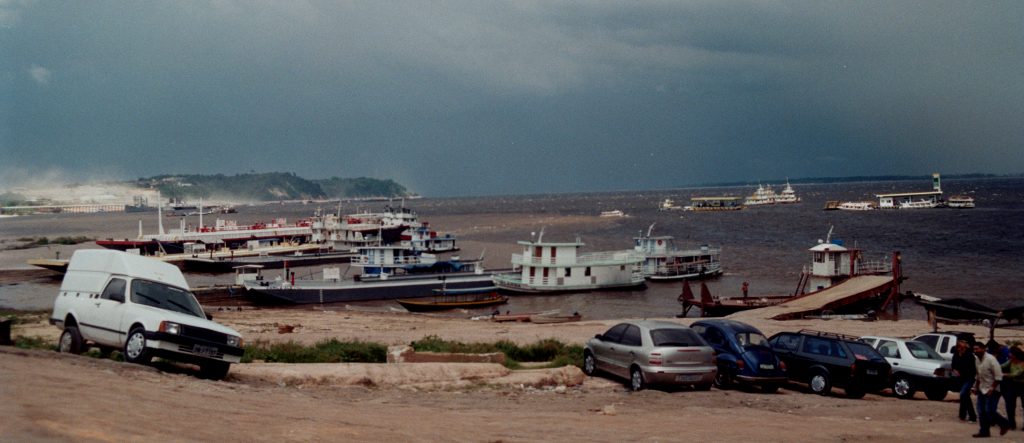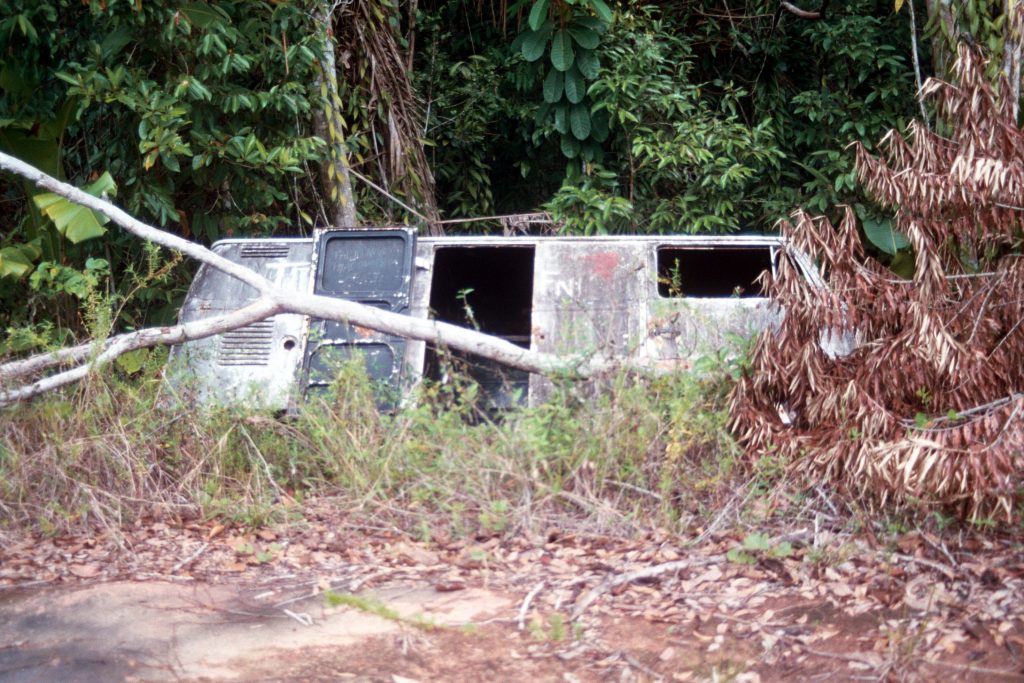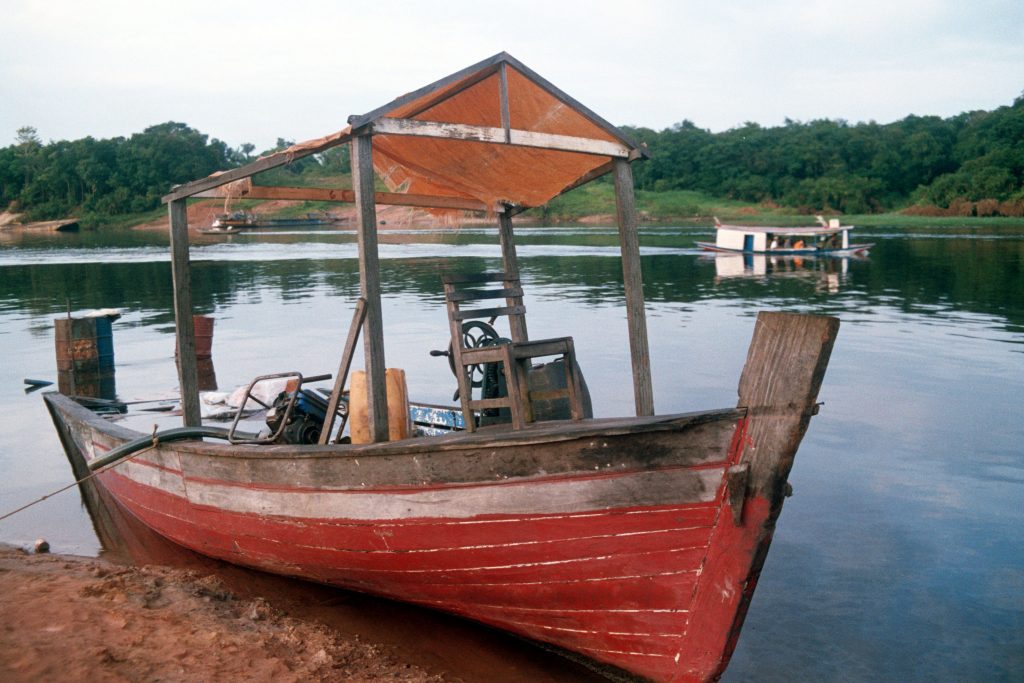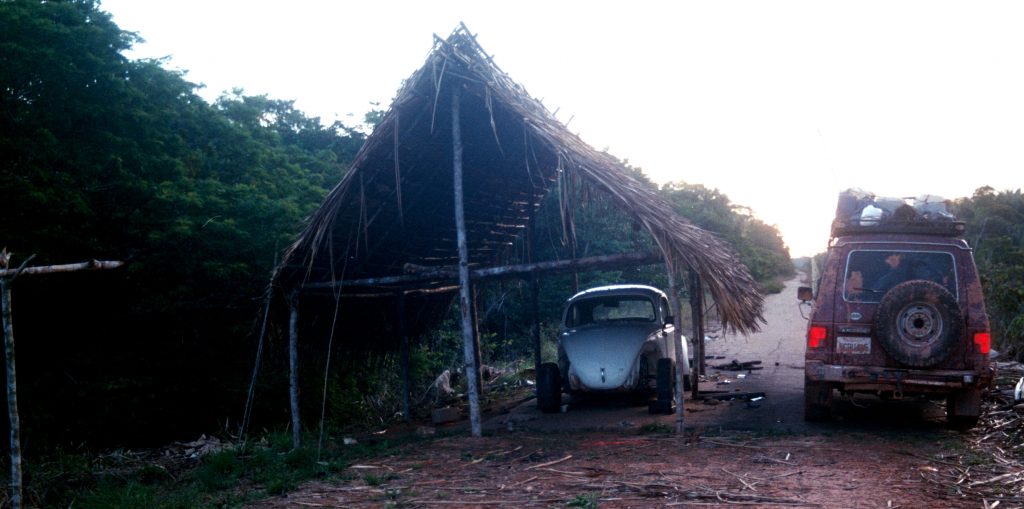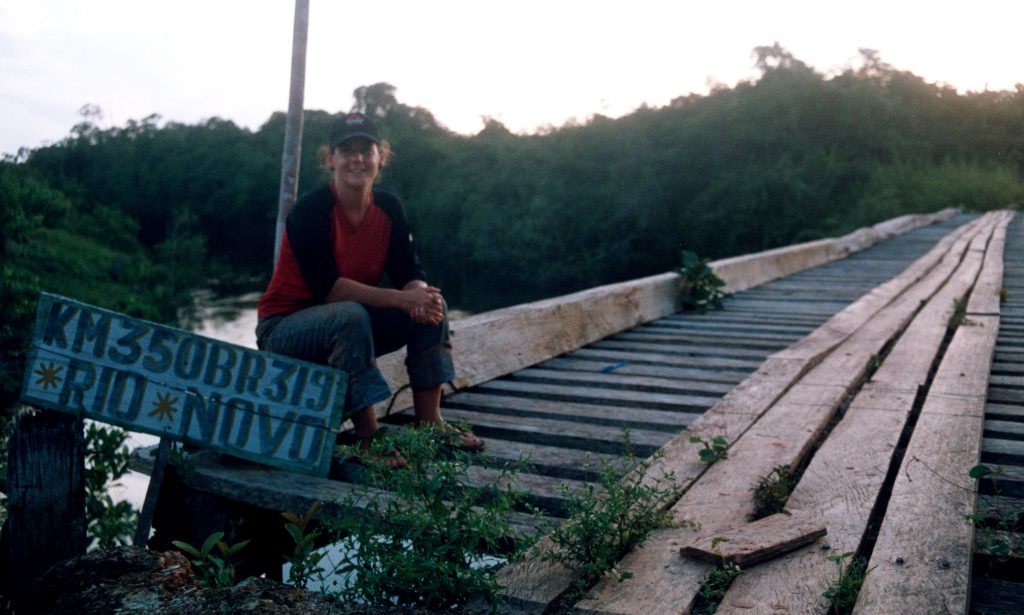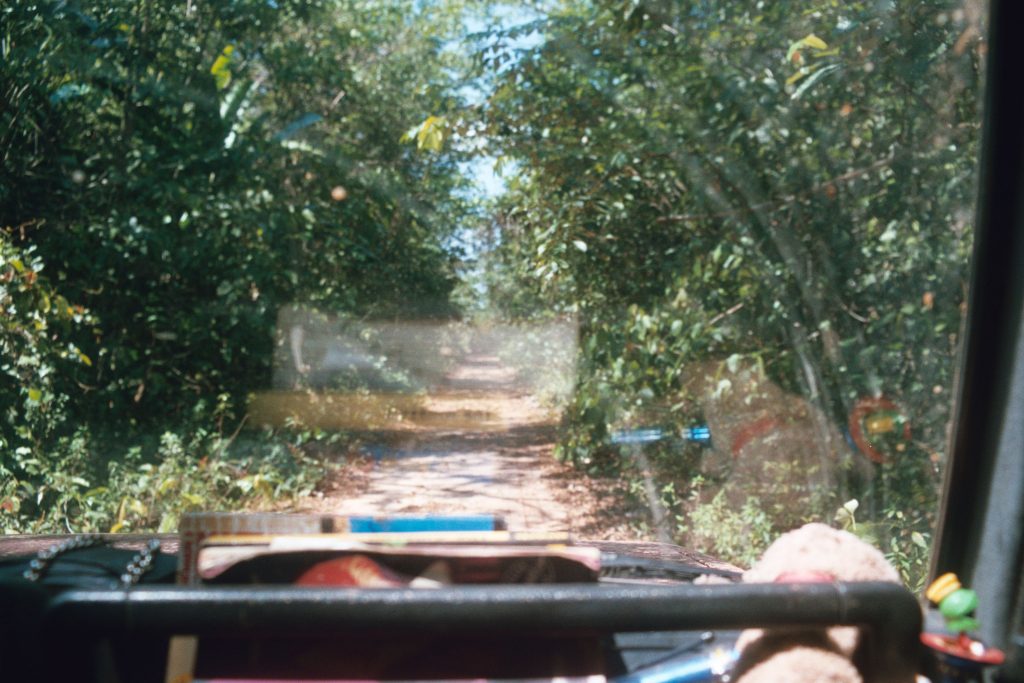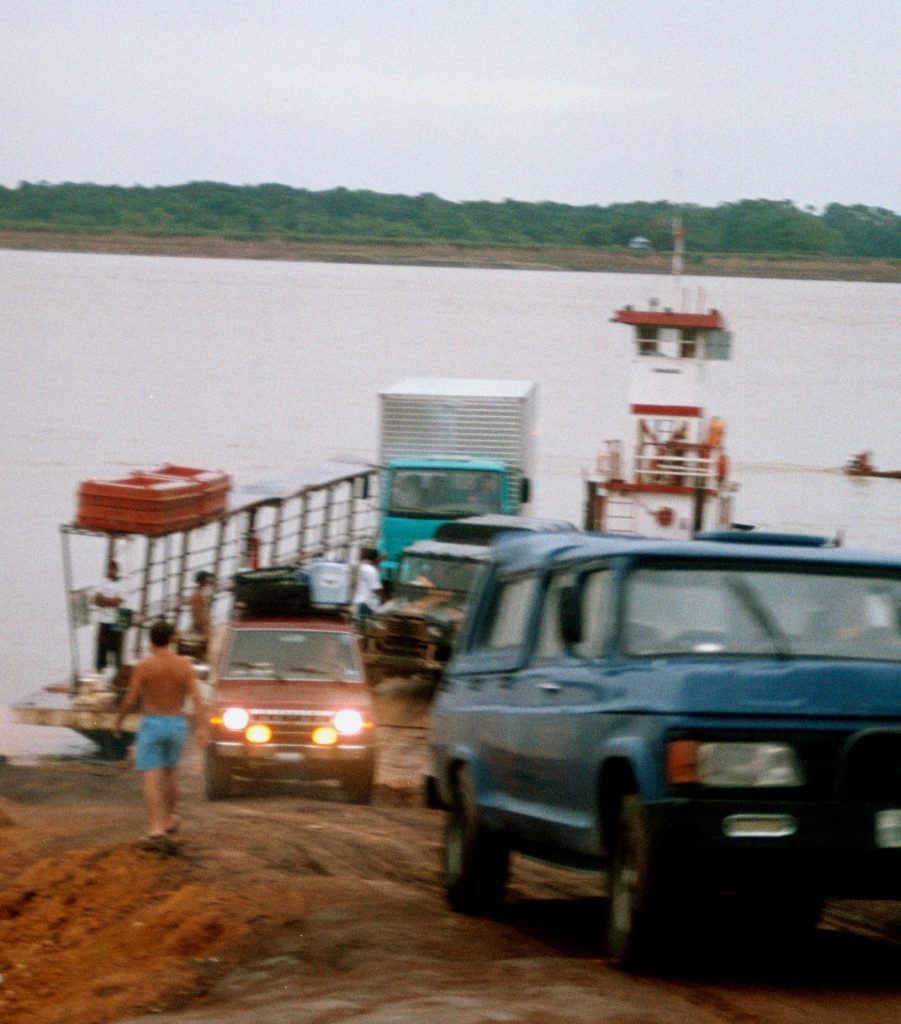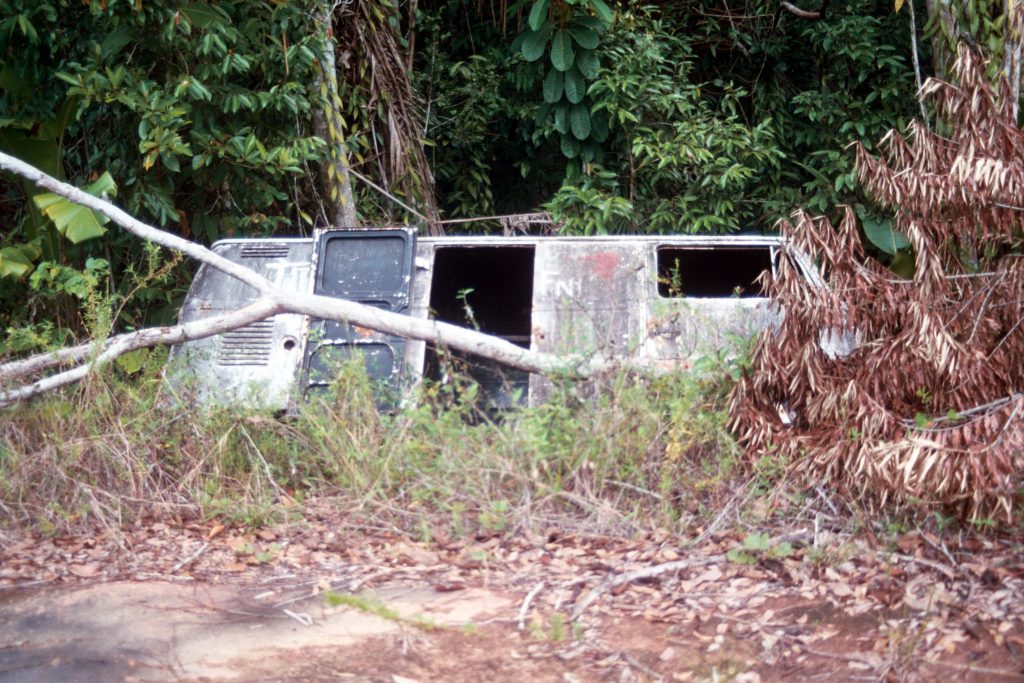 Even now as I sleep 3,300m high in the Peruvian Andes in Cusco, Peru, my dreams are filled with desperate attempts to traverse perilous roads. This phase of our journey finished here just days ago on October 20th, 2004; it began in Manaus fifteen days before. These last two weeks were extraordinarily difficult; escaping the clutches of the Amazon basin and crossing the Andes on a dirt road.
While this journey was still in the planning stages I had an inkling that jungles and motorized vehicles didn't play well together. The Amazon is a particularly large wet jungle and is quite a challenge to vehicular travel. This giant living organism has fought back at man's attempts to conquer it by road and rail and has quite a few victories under its belt.
Amazon water levels rise approximately two meters per month in the wet season, dropping two meters per month in the dry. This poses particular difficulties for road builders. Roads need to be built high enough to be above the high water mark but the Amazon landmass is not quite flat and spanning valleys and bridging rivers is challenging when building on mud. With all this water roads need to be built with channels underneath to allow water to pass. When these are blocked the road effectively becomes a leaky dam with no firm base. It isn't long before the water finds its own channels, undermining the road and collapsing it from below.
My task was to get from Manaus, the center of the Amazon basin, southwest to Peru crossing the Andes into Cusco. Since I had a car I naturally wanted to drive. My map showed only one road south from Manaus, newer maps show none. Built in the eighties as part of a mega Amazon road-building project, the BR319 linked the southern bank of the Amazon (near Manaus) with Porto Velho, capital of Brazil's state of Rondonia. Porto Velho in turn is linked to the rich mining state Minas Gerais and on through to Paraguay. Since Manaus is connected by road to Venezuela in the north, this north-south network connected three countries, effectively slicing the Amazon basin in half. Finished in 1986, the BR319 was closed in 1991 because of lack of maintenance funding. It remains so, deteriorating year by year, a boon to river traffic. If I could just get through, the BR319 connects with the transamazonica at the town of Humaita, a mere 550km south. The transamazonica was built at the same time as BR319. Now it too is closed, in parts, but the section heading west to the Peruvian border was reported to be open.

In early October in the central Amazon, water levels are still dropping. At the same time, the dry season in the Peruvian Amazon is coming to its end. Our envelope of opportunity seemed to be closing in on us from both sides. As water levels drop what remains of BR319 is left high and dry and driving dry roads is so much easier! However, since rain was due in Eastern Peru, I did not have the luxury to wait. My research indicated the 750km drive from the Peru/Brazil border through the Peruvian Amazon and over the Andes to Cusco normally takes three to five days. In the wet season it can take five weeks to cover the same distance. I needed to leave Manaus early, which meant being one of the first to drive through to Porto Velho on a still partially submerged road. The alternative was worse, as I might not make it out of the Amazon basin in Peru. I would be trapped in the southern Amazon which would mean a detour of more than 2500km. The only sealed road out of Porto Velho leads to Paraguay by sealed road through Minas Gerais.

If BR319 was possible the Transamazonica would take me west to the Bolivian/Peru border at a village called Assis-Brazil, passing through the Brazilian states of Rondonia and Acre. According to my information a river crossing was possible at Assis-Brazil to Iñapari, Peru from which a dirt road lead to Puerto Maldonaldo. My map showed a 400km track linking Puerto Maldonaldo to Cusco passing over the snow-capped peaks of the continental divide at altitudes above 4000m. This was my planned route. Hey! It looked good on the map and had the advantage of bypassing Bolivia simplifying vehicle importation paperwork.
It was a hare-brained scheme but it looked like fun.
We faced two major obstacles. The first was the 700km trip to Porto velho on the closed BR319. The second was the journey through the Peruvian Amazon over the Andes to Cusco on a dirt road.
The next two sections describe how things went.
Part II of III
The safe option was to transport my vehicle and its two drivers by boat from Manaus to Porto Velho. Boat traffic in the dry season is slow and boring and the route from Manaus to Porto Velho is not direct. First you need to go downriver toward the mouth of the Amazon, then double back up the Madeira river to Porto Velho. The trip is also expensive, costing more than US$400 to transport two people and a car by barge for ten days! That is ten days on the same muddy rivers, with the same bored truck drivers, the same cook, the same food and the same music in the stinking heat accompanied by millions of biting insects. Some barges don?t even have a bar! Locals had told me that the worst of these long boat trips was the piped music whose repetition was a dastardly form of mental torture. I resolved to avoid this option if possible. I decided to look into driving the closed road instead.
Finding information about a road no one uses is quite difficult. The information offered is at best hearsay, and at worse wrong. However, a year on the roads less traveled had taught me to filter and to ask as many people as I possibly could, then collate the replies to sift for gems of truth. I had met one person who had made the journey at a dinner party in Boa Vista, unfortunately my Portuguese was insufficient to request details. His vehicle had similar capabilities to mine, which was comforting, but he had made the journey two years before and in late October when water levels were lower. Still, I had met someone who had actually done it!
I began by exhausting official channels – tourism offices and the Brazilian transit police. Both told me the road was closed and that my planned route was impossible. "Take a boat!" But what was in it for them? The tourist office loses a tourist to another region without selling them a boat ticket and the police could only look forward to investigating the disappearance of more tourists to the jungle; a lousy job, and also bad for tourism. Of course they told me it was closed!
Having spoken to all of my local contacts in town and received various conflicting stories I was directed to the port of Ceasa where the closed road begins on the bank of the Amazon river. I asked around: "Yes cars had come through this year already, all 4WD!". I pressed for details but the answers were vague. I talked to some people who worked the open stretch of the BR319, they were less than encouraging indicating that the road was in a terrible state. Eventually I asked the men working on the car ferry how many cars had come through from Porto Velho in the last week. He wasn't sure but he thought maybe six? Six cars in a week meant that the closed road was possible. I resolved to leave Manaus in four days but first to buy a winch to increase my odds. I only had a budget for a hand operated winch but I thought it might come in handy. As it turns out it did, more than once.
Tuesday the fifth of October 2004 came round quickly. I was almost prepared and was certainly ready to leave Manaus where the temperature was a sweltering 37 degrees every day. The dry season had been unpredictable this year as it had been for a decade or so, a fact attributed to global warming. It wasn't exactly dry! A day before departure I received reports from a group of tourists who returned from the jungles south of Manaus. It had rained every day. Not good news but duly ignored.
We arrived at the port of Ceasa about lunchtime. Two people in one older, somewhat overloaded four-wheel-drive waited for the barge to cross the Amazon. The extra weight we were carrying included a huge quantity of gasoline carried in recycled containers on the roof rack. This somewhat dangerous and top-heavy solution was nonetheless necessary, as closed roads don?t have gasoline stations. Also aboard was my new winch, a new wheel for the second spare tire, a new axe, a new machete, a spade I had carried from San Francisco, much food and water, a hammock and other useful jungle stuff including a vintage GPS system.
As we waited for the repair to the ferry?s engine, I watched an unseasonal black storm roll in from the southeast. I pondered the little information I had gathered about BR319. The road had been completely abandoned beyond the first river crossing at Careiro (kilometer 120). To Careiro a bus service still operated from the other side. Abandoned did not mean that unoccupied. The interior was off limits for the police and even the army so BR319 had become a place for people who were literally on the run. Beyond the reach of the law, the jungle was a rich prize of mahogany and gold. Huge fires, sometimes visible from Manaus, raged in the dry season to clear land for sharecropping, there is large tree felling, illegal prospecting etc. It was suggested that I take care as to whom I should ask for help, fellow travelers only, no locals!
The lack of traffic meant that the jungle and its wildlife had encroached back onto its surface (where the road still had a surface). BR319 was teeming with wildlife including the king of the Jungle: 'El Tigre' (the jaguar to the rest of us). As it turned out they were quite common but generally shy, their prints were all over the mud puddles that were soon to become so familiar. We had been warned not to camp on ground level, sleeping instead on the high communication towers found at intervals of 40km. These Embratel phone towers were still infrequently maintained by crews who built their own wooden bridges to keep the road passable in dry season. Other travelers, I had been told, had been found partially eaten; presumably they had not heeded such warnings.
The storm passed and the Amazon calmed. Another smaller barge came across to Ceasa and I reversed my vehicle on. Actually I was off, alone, as my companion chose to take a passenger ferry across. She judged the barge to be somewhat unsafe. As I crossed the meeting of the waters where the Rio Negro and the Rio Solimoes meet to form the Amazon proper, it started to rain. I sat on the hood checking the number plates of my fellow travelers. They were all local plates. No one else was going further than Careiro.
When I got to the south bank of the Amazon my friend was waiting to take a photo. She hopped in the car and we began our 100km drive to Careiro where we would spend our last night in civilization. The road was eerily deserted and domestic animals seemed generally reticent to get out of our way. The trip passed without incident and we got a room just after dark. I asked the hotel owner if he had had many Porto Velho travelers this year and the reply was not encouraging. We went out to eat our last restaurant meal for some time and the proprietor looked at us in a very worrying way when we mentioned that we meant to push on south the next day into no-man's land.
We were up eager and early at dawn. I found an open bakery and bought everything I could possible eat. We got on the barge alone passing to the other side and drove off on a dirt road headed south. Things began relatively easy and we crossed four rivers by ferry waking the ferrymen as we arrived with a polite toot of the horn. After a time settlements thinned out and the jungle got taller. At 3:15p.m. I dropped the driver-side rear wheel into deep mud and we were stuck for our first time. The winch was connected to a nearby tree and the back lifted by my Hi-lift jack. We were out of our first hole in less than three hours. I wanted to press on to a communication tower but in my exhaustion I got us stuck less than 10km down the road just as night fell. We slept in the vehicle that night and I dreamt of ways to get out.
Up at 5:30AM we got ourselves out by 10:30 before the temperature hit 35 degrees. At 10:45 a Toyota Hi-Lux passed us coming the other way. This good omen lifted our spirits. At 12:15PM I got us stuck again but we got ourselves out quickly by 1:00. I climbed onto the roof to bring down our 20litre bottle of drinking water but let it slip. It fell to the ground and split. Most of our water supply was lost. This was serious we now had only five liters of water to get us through. We had only come about 230km from Careiro and the temperature was getting to forty degrees in the shade. We went on another 9km, passing another communication tower, and stopping before a severe mud hole. This one was so wide that my companion got out to take a photo. I got us stuck again, this time really deep at the roadside in a small stream. It was 2:00PM. We worked until dark and then slept exhausted in the car, deep in our mud hole.
Up at dawn again we worked for four hours to little avail. I looked out to the south and saw a lone traveler walking our way. When he came by I saluted him and he looked at our predicament. Within minutes the three of us were working together: winching, lifting the car and building road. It rained again and we were deeper in our hole, we had moved about 2M. Paul, our new companion, spotted a snake in the mud just beside my arm. I shooed it away with the aid of a spade but lost it in the mud. Just before nightfall we were still stuck and I was suffering from heat exhaustion. Then there was an engine noise. A Mitsubishi L200 pick-up came up the road traveling north. They pulled us out in minutes and I tried to organize a lift for my workmate who had been walking for weeks at this stage. The Mitsubishi drivers were less than interested and moved on. We said gracias adios to our friend sharing with him some of our food and rum and asking him what he did for drinking water. I drew a map inn the mud and showed him that he had just three days more to walk. Off he went and and we drove cautiously south just a few kilometers to sleep again in the car.
Up at 5:30AM, we drove for an hour and grounded the car again. My companion took the bicycle and searched for a clean water supply to the south but returned empty handed. I went north and returned an hour later with about 10 liters of the clearest water I could find, iodine added to ward off dysentery. We moved the car a little at 1:00PM. but got it stuck again. I passed out from heat exhaustion and drank honey water in the shade of the back of the truck. By 3:00PM we managed to drive out of the hole with the aid of a winch-post dug deep into the ground. For luck we changed drivers and we drove to a collapsed bridge crossing. We camped by the river and ate realizing to our horror that we had left some essential equipment at our last mud hole. I resolved to cycle back at dawn and my companion cooked breakfast for my return. The bike ride was beautiful in the early cool as I shared the empty road with the now familiar wildlife. Two hours later I returned with the forgotten tools, ate breakfast, and we were on the road by 8:00AM. By 10:00AM we were stuck again but this time, within minutes, a rented Mitsubishi truck arrived full of Russian adventure tourists heading for British Guyana. They pulled us out and we exchanged road information in English. The bizarre was becoming commonplace or we were losing it.
On the road again for a few more kilometers when my companion got us stuck one more time, this time not too deep. I was too weak to work at this stage so I took a swim and my companion macheted a path to a nearby tree, hooking up the winch cable. When I got back we tried to pull ourselves out. No luck! I suggested a picnic in the shade as it was near 40 degrees and heat exhaustion was kicking in again. We had cream crackers and honey and then it happened, the impossible! Other vehicles arrived traveling south! Three four-wheel drive vehicles appeared on the horizon, they arrived and promptly pulled us out, video cameras rolling, a tourist interlude from their air-conditioned comfort. They plied us with ice cold beers which lifted our spirits and then suggested we join them! We complied with gratitude and drove in convoy till the Rio Novo (Km 350). We all set up camp at the river, swimming, fishing and drinking cold beer and whiskey until we fell exhausted into our tent. It was a great night and we ate very well thanks to our new Brazilian friends.
The next day we traveled in convoy covering many kilometers. Only one vehicle got stuck, thankfully not us, but was pulled out immediately, so we made good time. We passed a government pick-up with a broken axle and took a message requesting parts to the next encampment where locals were cooking up a snack of monkey and macaw. We pressed on till one vehicle in the convoy lost its power steering. I pulled out my tools and removed the broken bearings and shredded belts. We towed the Chevy for about two hours but kept breaking the rope. By chance we came to a roadside tavern, just itching for customers. After dinner, three vehicles pushed on in the dark over some horrendous roads and bridges to get parts for the fourth in Humaita, the junction town with the Transamazonica. We slept in a motel that night our bellies full. We were in a state of exhaustion and shock, our environment strangely alien.
The next day a mechanic was dispatched by motorbike with parts to fix the Chevy and the last of our troop arrived just before dark under their own power. After a night of festivities, Brazilian style, we slept in Humaita one more night and drove to Porto Velho to enjoy a couple of days of R&R with our hospitable hosts, their families and friends.
On Saturday the sixteenth our hosts flew north to Boa Vista and Manaus, their vehicles dispatched by barge, and we pressed on for the Peruvian border.  But that's another story.
Part III of III
From Porto Velho in Rondonia to Assis-Brasil was a one and a half day drive on spectacularly good deserted road. The first night we stopped at Brasiléa, a crossing point into Bolivia. In the morning we crossed into Bolivia to buy some very cheap gas then pushed on for the Peruvian border.
The Brazilians have built a gateway to the Pacific complete with road signs giving distances to the Peruvian cities of Cusco, Lima and the Pacific Ocean. At Assis-Brasil Brazilian plans met Peruvian reality. We drove off the "Estrado do Pacifico" and onto a dirt road prompted by a sign that read: "Bridge to Peru," Unfortunately, the dirt road petered out at a building site where a bridge was under construction. We were about a year too early and had to return to the town to look for alternative crossing points.
The border between Brazil and Peru here is a small river. Water levels were very low awaiting the start of the rainy season. Peruvian taxis parked on dry sand banks on the other side touted for trips to Puerto Maldonaldo by shouting across the river to prospective customers. The pickings were small as few travelers come this way because there is no public transit out from Puerto Maldonaldo to the rest of Peru except by air.
I only needed to cross about twenty meters of water less than a meter deep. I was tempted to drive it but didn't want to deal with wet carpet. I decided I needed a little help and consulted with the ferryman. He suggested that we use two canoes but I countered that my vehicle was top-heavy and might fall off. I suggested we use the floating platform moored nearby instead. This proved to be a complex and expensive procedure which made we wish I had driven across.
The first time I tried to mount the vehicle onto the floating platform that had been maneuvered into place, the planks cracked and the vehicle shuddered forward and down. I had to reverse off them while the ferrymen searched for more planks so we could try again. The second attempt proved successful. The planks groaned but held; I mounted the platform successfully. I was instructed to reverse my car to the back of the platform to shift the weight so that we were not grounded in the sand. The single motor on the canoe pushed us across the absurdly short distance to the other bank.
There remained the small matter of driving off onto the sandbank on the other side. The planks were re-arranged and we had attracted quite a crowd of onlookers. All went well and I was happy to be off. We paid our ferryman his hard earned fee and we drove into Iñapari, the Peruvian town on the other bank, to get our entry visas and a permit for the vehicle. We were the only traffic so this proved a relatively simple procedure even on a Sunday.
Within an hour we were on our way. From Iñapari it is 170km of dirt road to the river at Puerto Maldonaldo, the main town in this jungle region of Eastern Peru. The dirt road was wide and dry, and the first 100km having been recently improved, the result of a bilateral agreement with Brazil. Traffic was expected with the new bridge from Brazil and as usual funding was offered by the Brazilians so that their trucks might have access to ports on the Pacific — a dream not yet quite reality. It was late in the evening so we stopped in a large sleepy town to recharge our batteries for the long drive the following day. I wanted to get as many kilometers under our belt as possible as the rainy season was imminent and we had passed through some heavy rainfall in southern Brazil already. Just one inundation could add days if not weeks to this trip.
The road from Iñapari to the crossing to Puerto Maldonaldo was excellent for the first 100km or so, that road being built by the Peruvian Federal government. The last stretch was very rutted and I was very glad that it had not rained recently. This bad stretch was to be improved by the local authorities but the monies for construction has mysteriously vaporized leaving this mess. Local authority corruption is endemic in most countries including my own but is particularly bad in Latin America. The Peruvian papers report that Peru's international index of corruption had come perilously close to 3.0, considered the point at which corruption is so endemic as to be almost impossible to fix.
We arrived at the port and could see the town of Puerto Maldonaldo on the other side. I drove down the ramp and quickly passed to the other side on a makeshift single car ferry made from a platform mounted on two canoes. This time the planks were wider and made of thick mahogany. We got across in two shakes of a lamb's tail.
After breakfast we set off from Puerto Maldonaldo eagerly awaiting our first glimpse of mountains since southern Venezuela. We had been months in the jungle and the prospect of cool air was as alien as it was delicious. In the early afternoon we started to climb and the road suddenly became very narrow and steep, switchback after switchback best taken in 4WD low.
Instead of bridges to span the numerous smaller rivers, the road simply dropped into the river and we drove through, choosing our crossings with care to keep the carpets dry. I was more confident of my four-wheel drive capabilities as Mitsubishi Porto Velho had replaced some essential parts of the front hubs that were faulty. This problem had made my previous week such hell. Instead of traveling in four-wheel drive, we were really driving in rear wheel drive at slow speeds. The faulty parts, now replaced, had meant that pressure was insufficient to engage the front hubs in low speed so our front wheels couldn't pull us out. This worn part had meant many days in the hellish puddles that had been my nemeses on BR319.
Progress was slow but effective and we never got stuck that day crossing various rivers and climbing and descending many mountains to arrive in the evening at the jungle town of Inambari a town filled with trucks. It was time for us all to sleep, even experienced drivers who know the road do not drive it at night. I found it strange that about half the traffic on the road consisted of fuel tankers so I decided to seek an explanation. A chance conversation with some Californian tropical fish collectors, residents of Puerto Maldonaldo, clued me in.
Puerto Maldonaldo was a reasonable sized town cut off from the rest of Peru in the wet season. Its economy revolves around the hardwood and gold mining industries of this appropriately named "Madre de Dios" region. The town's electrical power is provided by a diesel generator. In the dry season the roads are full of diesel trucks traversing the Andes with small loads of diesel to replenish town diesel supplies ostensibly to keep the lights on. If they can't get through diesel needs to be flown in to supplement the precarious supply. This ridiculously inefficient solution to providing electrical power was so typical of the remote border regions of smaller countries in Latin America. Loath to look to their richer neighbors to provide electrical power in a more efficient way they resort to traditional methods of self-sufficiency. With all of the fast moving water one would expect that some bright spark would look to hydroelectric power to provide electricity. Brazil, just across the river supplied most of its grid this way, but this is Peru!
As it turns out the economics of diesel power generation had a perverse logic all of their own.
Diesel tankers in these Amazon regions are built differently to those we are familiar with in other countries. They carry only about half the quantity of diesel and have a capacity to take freight in a compartment above the tanker typically used when the tank is empty. As it turns out this was the real reason that there were so many tankers on this Andean pass. They were an essential component in the illegal mahogany trade that is rapidly stripping the Amazon forests in this area. The tanker traffic provides an inefficient but covert method for trafficking these huge planks from the jungle where they are cut illegally to the sawmills near Cusco. The tankers pass through locally controlled checkpoints, pay an agreed minimal bribe and take their loads over the mountains to hardwood-starved markets of the world.

That these trucks managed to drive this road with their two-wheel drive capability was testament to the extraordinary effectiveness of greed.
That night I was awoken around 2:00AM by a tropical lightening storm bringing heavy rains and snow at higher altitudes. I lay awake thinking of the river crossings ahead, my paranoia of driving through water in full effect. I finally fell back to sleep to awake at dawn. The next day was a hard drive out of the jungle and into the zone of the Cloud People who live above the tree line. These Quechua-speaking tribespeople have farmed these extraordinarily steep slopes on both sides of the Andean continental divide since the area was ruled by the Incas and probably before. They still live pretty much as they have for centuries growing vegetables, coca and corn, and farming alpaca, sheep and hairy black and white spotted pigs.
It was a good travel day and we covered more than a 150km ascending to 2,500m. That night we experienced cold air for the first time in almost a year. We slept in the nest of the clouds in the town of Marcapata. Up early the next day we were eager to get back on the road. I finally got over my rain phobia and relaxed that we were out of the worst of the Amazon basin, if anything was to stop us now it was unlikely to be rain.
As advised by a young road-building engineer we had met the night before, I acquired some coca leaves to chew as we drove into the snowy passes of the continental divide. Coca leaves are a natural medicine used to counteract altitude sickness and we were to pass above 4000 meters. We stopped to take photos and throw snowballs at the peak and began a rapid descent, which took all of the rest of the day. It was October 20th 2004 and we had been on the road for more than two extraordinary weeks. We were happy to sleep in Cusco a town connected to others by asphalt, the car parked in safe parking not to be driven for days at least. We had made it relatively intact.
It was time to rest and recover, to contemplate this extraordinary journey and to write this article.