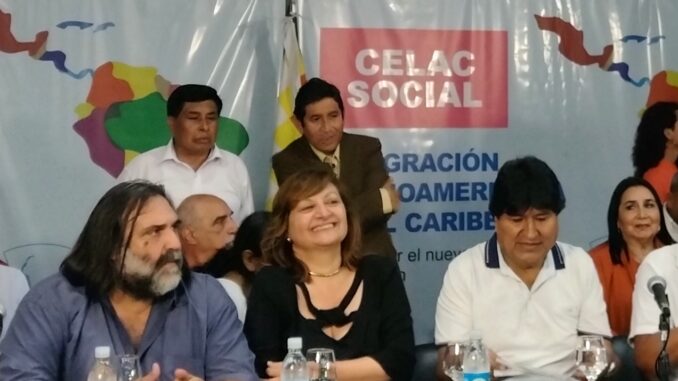 Buenos Aires, Argentina, January 24th., 2023
CELAC 2022 delayed its seventh presidential meeting till January 2023. CELAC is the Community of Latina American and Caribbean States explicitly not including either Canada or the USA. CELAC currently consists of 33 member states exclusively from Latin America, including all of South America except French Guyana, all of Central American and many Caribbean Islands and Mexico in North America. CELAC also includes some continental and many Island states which do not speak Portuguese or Spanish including Suriname, Dutch and British Guyana and Belize as well as many Caribbean islands.
The reunion began in earnest January 24th in Buenos Aires with the welcomed return of Latin America's largest and most populous state Brazil. The recently re-elected Brazilian President Ignacio (Lula) Da Silva arrived early and explicitly thanked the Argentine president Alberto Fernandez for visiting him while he was incarcerated in a Brazilian jail facing false corruption charges over a single apartment whose title was not even in his name. He was later exonerated on these charges.
The CELAC presidential meeting was held in Buenos Aires since Argentina held the pro tempore presidency for 2022. On Tuesday the 24th of January that presidency was passed to Ralph Golsalves and the Islands of Saint Vincent and the Grenadines. CELAC is viewed by many left-of-centre Latin governments as an antidote to the Washington D.C. US-based organization the "Organization of American States" (OAS), known in Spanish as the OEA. CELAC's creation was a response to negative treatment especially toward Cuba and more recently, Venezuela including recognition of the unelected Juan Guaido. The 2022 OAS assembly which was hosted by the new US President (Joe) Biden in the US was somewhat tepidly received by certain invitees, not all of whom participated quite as actively as President Biden would have hoped. CELAC is inclusive of all Latin American States, particularly those that the US are currently sanctioning in the OAS (Venezuela, Cuba and Nicaragua).
Former President Jair Bolsonaro fled into exile to Orlando, in the US state of Florida just days before his mandate elapsed on December 31st, 2022. Brazil recently rejoined CELAC after two years of absence. In January 2020 Brazil notified CELAC of its decision not to participate. This was in effect till the end of 2022, Brazil's absence seriously hampering the organization. The previous two Presidential meetings were cancelled for this and other reasons during the pandemic. This was roundly reversed by President Lula who announced, on January 5th. 2023, Brazil's "full, and immediate, re-incorporation into all bodies of CELAC, including those of a political and technical nature".
Lula was received in triumph in Buenos Aires by President Fernandez though many other leftwing leaders who came to Buenos Aires (from those same states sanctioned by the US) were criticized in the right-wing press in Argentina. Conspicuous by their absence were President Maduro of Venezuela and President Lopez Obrador of Mexico. Both leaders sent personal convivial and positive video messages also sending technical and political delegates, as well as a large media presence from Venezuela. The Venezuelan president noted in his video message that he could not travel due to threats which, Maduro implied, endangered him should he do so.
The CELAC Leaders reunion was anticipated by "CELAC Social". This consisted of two meetings organised by the left-wing union organisation CTA-A. (the autonomous worker's central). The first meeting was a press conference with various short speeches and a short time for questions. Two star orators at these events were former president of Bolivia Evo Morales Ayma and the coordinator of the Sao Paulo Forum Monica Valente. Both noted the importance of Latin American Integration, the former having backed the now frozen UNASUR regional block, and the latter in her role as coordinator of a forum whose slogan is "Toward a New Latin American Integration". Both called for resisting neoliberalism and for anti-capitalist policies. Both Lula's Worker's Party in Brazil and Evo Morale's Movement toward Socialism (MAS) parties are members of the Sao Paulo Forum and President Lula da Silva is its current leader.
Two speakers at the CELAC Social events, both from Bolivia, called for UNASUR to be reinstated for its 75 million South American inhabitants. Henry Boisrolin, personal lawyer for the jailed President of Peru noted the illegality of President Pedro Castillo's destitution and subsequent jailing. Boisrolin called for his reinstatement speaking at both CELAC Social events noting resistance on the streets of Peru and the violent deaths of more than 60 protestors.
Various speakers at CELAC social also called for an end to Lawfare (which had been used in various nations in the last decade) resulting in the destitution of President Dilma Roussef for the Lava Jato (carwash) scandal in Brazil and also leading to the imprisonment of Lula da Silva. They also mentioned the current indictment under appeal against the vice president of Argentina, Christina Fernandez de Kirchner on convictions for corruption. CELAC Social denounced the 2022 attempt on the life of Christina Fernandez de Kirchner in Buenos Aires and, just two weeks before the CELAC meeting, the attempted assassination of Francia Marquez Mina vice president of Colombia in an attempted bomb attack. CELAC Social called for a resisting another Plan Condor for Latin America (citing the CIA coordination of death squads and military police across Latin America in the 1970's) mentioning a recent video statement ( https://www.defense.gov/Multimedia/Videos/videoid/850912/ ), which went viral in South America, by the five star general Laura J. Richardson leader of the US "SOUTHCOM" who cited her Latin America (neighbourhood) which she called the 20 yard line to the "homeland", a region off the charts in mineral riches with 60% of the world's Lithium, Oil, Gold, Copper and 31% of the world's Fresh Water.