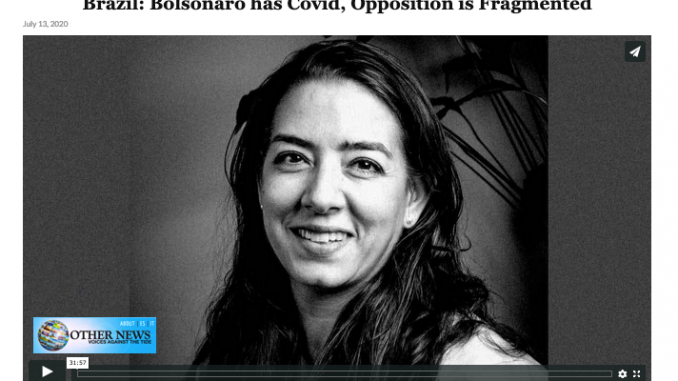 Other News recently announced the first results of a novel news partnership they just launched jointly with the US-based publication TheAnalysis.News — an online magazine aiming "to carry on the work of independent, in-depth, uncompromising journalism".
Roberto Savio, founder and president of Other News and Paul Jay founder of TheAnalysis.News share a mission: to correctly inform world's citizens in order to preserve democracy. This has led to the initiative to co-produce a podcast series hosted at TheAnalysis.News.
The format includes interviews with Paul Jay talking to international panels of experts (produced by Other News) on mutually developed topics of global interest in the international policy space.
The series began in July 2020 with Episode One entitled Brazil: Bolsonaro has COVID, Oposition is Fragmented. This in-depth update on the COVID-19 situation and the political ramifications in Brazil highlights an interview with local expert, and University of São Paulo Professor, Lorena Barberia who coordinates a study on these factors in Brazil. You can listen to this first podcast by clicking on the image below
A recent article in the Canadian publication McClean's has found that US Citizens not only have limited knowledge of World outside their borders, but that this situation is actually getting worse over time. This series is also designed to alleviate this dangerous situation.
I reached Paul Jay in Canada to ask him about this new project. He told me that the collaboration between The Analysis and Other News is important to broaden coverage on global issues for a public in the US.
"The collaboration with Other News allows theAnalysis.news to reach an audience and guests that bring a critical global perspective. Most media in North America ignore the rest of the world, especially the global south. We consider it vital that our audience understands that globalization also means the people of the world must learn from each other, and act to change the world, together."
Paul Jay