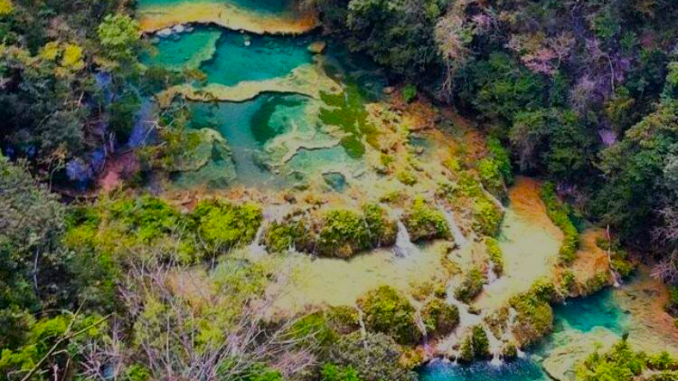 Things started to move quickly after Ixil. I was traveling alone but sharing gas with various people on the way. The transport industry in Guatemala makes sense given the price of transportation and the needs of the people. A gallon of gasoline costs about $2.20 or Q17 (Quetzales), 80% of the people of Guatemala are living on one side or the other of the bread line surviving on about Q20 a day which is about enough gasoline for 28 miles or about 14 miles of travel in a private vehicle factoring in repair costs. So in order to buy a private vehicle your average Guatemalan would have to save about 5 years without food or lodging just to buy a rust bucket, hardly viable! Assuming no insurance, vehicle taxation, lodging or food costs they could then travel 17 miles every day for an average poor-persons wage.
Horses are an option for short rural journeys but most local people travel using the chicken bus system, a network of aged diesel buses driven by religious maniacs; the pick-up system, Toyota pick-up trucks with custom made metal roll-cages and strengthened suspension designed to carry about 4 cows or 35 people in relative discomfort driven by younger sunglass wearing gansta' types; or by delivery truck which frequently stop to pick up locals on their routes to supplement their income. A few Guatemalans can afford mountain bikes but most walk the muddy or dusty tracks to get to where they need to go.
The pick-ups and buses are very cheap, a 20-mile journey being about Q3 (or USD$0.40). A typical market trip might yield a 30Q profit for a small stand selling fruit, tamales, bread or plastic Chinese-made 'luxury' goods like hair clips. Travel to and from the market should cost only about Q6 with the goods stored on the roof rack or on available floor space. On a good day that might be enough to feed the kids a basic diet of beans and tortillas for a couple of days, assuming a small family.
I decided I couldn't compete in the transport business but I felt guilty driving alone with so many people waiting patiently for rides. I decided that I could find passengers from amongst the foreign traveler contingent. These people are used to paying 'Tourismo' coach charges (about 10 times local rates). The travelers paid a share on gasoline costs to come along. Along with the cheap vehicle repair costs and shared accommodation this keeps travel affordable.
Even with passengers I sometimes had room to squeeze in a local or two, usually older tribeswomen or younger women with babies. Many were visibly bewildered traveling inside a vehicle especially with my alien music. At the end of the trip they were visibly relieved to exit and when they asked "how much?" in their faltering Spanish I happily replied "nothing". This happy surprise I fantasized would provide excellent gossip.

And so I traveled from Ixil to Antigua in a day, driving almost due South. After three days in Antigua two more driving days across country heading ENE through some very remote of Baja Verapaz then picking up the tarmac road north of Guatemala City heading NNE to the ugly regional capital of Coban. In Coban a lunch stop and having picked up some provisions it was on WSW over three hours of dirt to the watery paradise of Lanquin and Semuc Champey. Both deserve special mention, as gateways (and traveler destinations) to the unique jungle Karst topography of one of the more remote and unspoiled regions of Guatemala.

After spending a week in a palapa and tent in El Retiro, Lanquin I was off SSE over incredibly difficult mountain terrain via Finca El Volcan and Senahu to El Estor Lake Izabal. The local electoral representative was besieged by Gold mining interests battling with local fishermen over whether or not to build a local gold smelting plant. Typically wary of Western mining companies, in this case the Canadian firm Eco, the local fishermen believed that any plant built on the lakeshore to smelt gold and other minerals would be built with inadequate environmental protection and would be detrimental to their interests.

After El Estor it was a short day due East along lake Izabal's North coast, stopping at the gorgeous hot water waterfall of Finca Paráiso (an excellent natural cure for insect bites). Then 30 miles east to lake Izabal's eastern mouth at Rio Dulce. Rio Dulce is one of the richer towns in the state of Izabal and is a major mooring for luxury leisure craft passing up and down between Honduras and Belize. One suspects that much of the cocaine heading North moves this way as well. In 2002 the US estimated that full 50% of the cocaine moving north through Central America came through Izabal, the state with Guatemala's only Gulf coastline. Much of this passed through Puerto Barrios where scheduled airplanes and ferries travel North to Belize and East into Honduras.

From Rio Dulce it was only a half day on good sealed road to the Honduran border at El Chinchado Guatemala, and Corinto Honduras. But crossing with a vehicle into Honduras at this remote site, yet again on a Sunday, is quite another story.