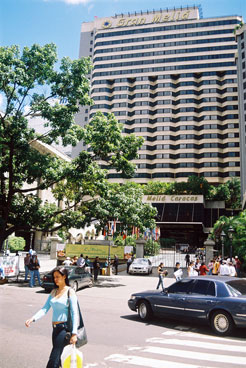 With one week until the recall referendum on August 15th, the people and the pollsters have taken to the streets of Venezuela. Today, Sunday, marches were held in cities and towns all over Venezuela. The biggest demonstrations were in the capital, Caracas. By far the largest was the pro-Chavez march in the city center along Bolivar Avenue. Timed to coincide with this, a large anti-Chavez demonstration took place in the upper middle class districts in the east of Caracas on Francisco de Miranda Boulevard.
President Hugo Chavez Friás came out to speak to his supporters at 4:00PM local time. True to form, his speech to his supporters was a long one interspersed with songs and poetry. The sea of red pro-Chavez tee-shirts stretched out more than 1/2 Kilometer down the wide four-lane boulevard. Estimates of 600,000 demonstrators were happy to see their leader and he was happy to see them all. President Chavez was in excellent spirits seeming confident — as well he might be — given the results of recent polls.
Next Sunday's referendum will decide the fate of his presidency. A yes vote will mean that the recall goes through and a new presidential election will be held in September. A no vote will mean that the recall referendum will fail and Chavez will continue to serve out the rest of his six-year term, ending in 2005.
During his speech, Chavez held aloft a copy of the centrist National daily: Últimas Noticias. President Chavez read aloud from an article entitled, "Public poll war culminates today". The article discussed the results of four different polls released last week. All four indicate that his presidency will be upheld by a margin of between 10 and 20% but he pleaded with his supporters to get out and vote no!
An article in the London Financial Times published yesterday Saturday 7th collaborates this view. The article noted that the U.S. government may be willing to soften its recent antagonism toward President Chavez, an implicit acknowledgement that Chavez will likely take his presidency to term. The Bush Administration has issued a number of harsh criticisms and warnings to the Venezuelan President for its anti neoliberal rhetoric and support of Cuba. The U.S. is widely seen as supportive of the 2002 coup that deposed Chavez, albeit only for 48 hours. When Chavez supporters demonstrated on the streets that time the Venezuelan National Guard overturned the coup and returned Chavez to power. Chavez's speech was less than conciliatory this afternoon as he quoted poetry from an allegorical tale entitled "Florentino and the Devil", a popular film in Venezuela, the latter term referring to Bush's administration, which relies on Venezuela for more than 15% of its oil needs.
Venezuela goes to the polls next Sunday in the referendum that will be scrutinized by the U.S. based Carter Foundation. Among the new measures to prevent fraud will be fingerprinting and a new computerized voting system.